Heating And Cooling Kelowna
Trust Us for all Your Heating and Cooling Kelowna Needs
As a home owner, we understand that you want to live comfortably. You need
to live in a home where temperature is well conditioned at all times. This is why
we are fully dedicated and committed to offer high quality heating and cooling
Kelowna services. With our services, you are guaranteed of long lasting comfort
and enjoyment. Our qualified technicians will help you with improved temperature
consistency in your home
Offer customized services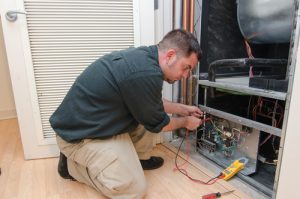 HVAC technician working on a residential heat pump
We offer heating and conditioning services that match your
budget needs. We listen to you and assess your specific needs in order to come up with a quote that matches the budget you have. Our company is known not only for servicing air conditioning and heat system at an affordable cost, but also for optimizing your system for high level performance. Our technicians do the right repairs when required, so that your family is not inconvenienced in your heating ad cooling needs.
Our services help create a good balance of home comfort for all occupants. We ensure that everything is done according to your specific need
Technicians trained to offer wide range of services
All our technicians are trained and certified with ample years of experience in the industry. So, when you entrust us to work on your heating and air conditioning Kelowna system, there is no point to worry. Our specialists are trained in different areas such as air conditioning system installation, replacement, repair and maintenance. They offer all the services you need to keep your system functioning perfectly for a long time, with frequent damages.
We also provide other indoor air quality services that help improve the level of breathability to your indoor environment both in your home and in your business premises. Our many years in the industry also show that
all our clients have trust and confidence with our heating and cooling services, so you also expect great satisfaction from us.
Provide prompt services
Your heating and cooling system can breakdown any time without your expectations. This is why we are always there to help you even in case of emergencies. Therefore, when you require prompt heating and cooling Kelowna services, our technicians are ready to offer you the right solution. They will do prompt repairs, installation, replacement with high level courtesy and competence. With our technical skills, your project will be handled fast, efficiently and to your level satisfaction.
Use high quality products
When working on your heating and cooling system, you can expect long lasting solution to whatever issue it has. In addition to our high level skills, we only use components sourced from reputable manufacturers in
the industry. We use original parts when doing the repairs, so you can expect that your system will not face similar problems in the future. All our services and products also come up with a warranty, so you can be sure they are of unique quality. In addition, we do the job right the first time; there is no room for mistakes because we are focused to details.
Do not hesitate to call us for all your heating and air conditioning Kelowna needs and you will be happy with our services.